Product Summary
The 73S8010R-IM/F is a single smart card interface IC. The 73S8010R-IM/F has been designed to provide full electrical compliance with ISO-7816-3 and EMV 4.0 (EMV2000) specifications. Applications are (1)Set-Top-Box Conditional Access and Pay-per- View; (2)Point of Sales & Transaction Terminals; (3)Control Access & Identification; (4)Multiple card and SAM reader configurations.
Parametrics
73S8010R-IM/F absolute maximum ratings: (1)Supply Voltage VDD: -0.5 to 6.0 VDC; (2)Supply Voltage VPC: -0.5 to 6.0 VDC; (3)Input Voltage for Digital Inputs: -0.3 to (VDD +0.5)VDC; (4)Storage Temperature: -60 to 150°C; (5)Pin Voltage (except card interface): -0.3 to (VDD +0.5)VDC; (6)Pin Voltage (card interface): -0.3 to (VCC + 0.5)VDC; (7)ESD Tolerance – Card interface pins: 6kV; (8)ESD Tolerance – Other pins: 2kV.

Features
73S8010R-IM/F features: (1)Complies with ISO-7816-3 and EMV 4.0; (2)A LDO voltage regulator provides 3V / 5V to the card from an external power supply input; (3)Provides at least 90mA to the card; (4)ISO-7816-3 Activation / Deactivation sequencer with emergency automated deactivation on card removal or fault detected by the protection circuitry; (5)Protection includes 3 voltage supervisors that detects voltage drops on VCC card and on power supplies VDD and VPC; (6)The VDD voltage supervisor threshold value can be externally adjusted; (7)Over-current detection 150mA max.; (8)1 card detection input; (9)Auxiliary I/O lines, for C4 / C8 contact signals; (10)CLK signal up to 20MHz; (11)6kV ESD Protection on the card interface; (12)Package: SO28 or QFN32.
Diagrams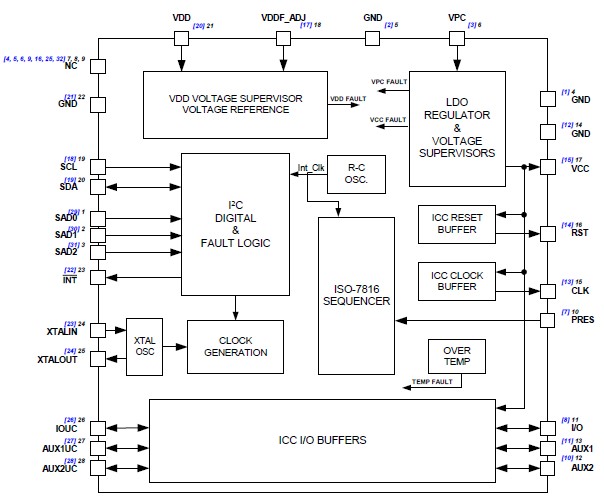 Image
Part No
Mfg
Description
Pricing
(USD)
Quantity

73S8010R-IM/F

Maxim Integrated Products

I2C Interface IC Smart Card Interface ISO7816-3 & EVM4.0

Data Sheet



| | |
| --- | --- |
| 0-1: | $0.61 |
| 1-25: | $0.59 |
| 25-100: | $0.57 |
| 100-250: | $0.53 |


73S8010R-IM/F1

Maxim Integrated Products

I2C Interface IC

Data Sheet

Negotiable

73S8010R-IM/F2

Maxim Integrated Products

I2C Interface IC

Data Sheet

Negotiable