Product Summary
The TPS3809K33DBVR is a 3-pin supply voltage supervisor which provides circuit initialization and timing supervision, primarily for DSPs and processor-based systems. During power-on, RESET is asserted when the supply voltage VDD becomes higher than 1.1 V. Thereafter, the supervisory circuit monitors VDD and keeps RESET active as long as VDD remains below the threshold voltage VIT. An internal timer delays the return of the output to the inactive state (high) to ensure proper system reset. The applications of the TPS3809K33DBVR include Applications Using DSPs, Microcontrollers, or Microprocessors, Wireless Communication Systems, Portable/Battery-Powered Equipment, Programmable Controls, Intelligent Instruments, Industrial Equipment, Notebook/Desktop Computers, Automotive Systems.

Parametrics
TPS3809K33DBVR absolute maximum ratings: (1)Supply voltage, VDD: 7 V; (2)All other pins: -0.3 V to 7 V; (3)Maximum low-output current, IOL: 5 mA; (4)Maximum high-output current, IOH: -5 mA; (5)Input-clamp current, IIK (VI < 0 or VI > VDD): ±20 mA; (6)Output-clamp current, IOK (VO < 0 or VO > VDD): ±20 mA; (7)Continuous total power dissipation: See Dissipation Rating Table; (8)Operating junction temperature range, TA: -40℃ to 85℃; (9)Storage temperature range, Tstg: -65℃ to 150℃.

Features
TPS3809K33DBVR features: (1)3-Pin SOT-23 Package; (2)Supply Current of 9 μA (Typical); (3)Precision Supply Voltage Monitor 2.5 V, 3 V, 3.3 V, 5 V; (4)Pin-For-Pin Compatible With MAX 809; (5)Temperature Range: -40℃ to +85℃.

Diagrams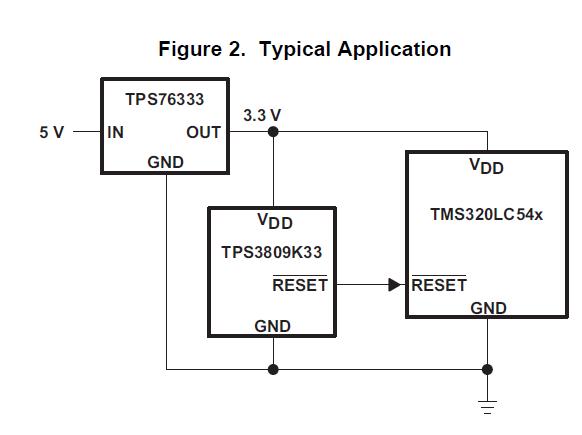 Image
Part No
Mfg
Description
Pricing
(USD)
Quantity

TPS3809K33DBVR

Texas Instruments

Supervisory Circuits 2.93V Volt. Sup

Data Sheet



| | |
| --- | --- |
| 0-1: | $0.49 |
| 1-25: | $0.38 |
| 25-100: | $0.33 |
| 100-250: | $0.24 |


TPS3809K33DBVRG4

Texas Instruments

Supervisory Circuits 3-Pin Supply Voltage Supervisor

Data Sheet



| | |
| --- | --- |
| 0-2300: | $0.15 |
| 2300-3000: | $0.15 |