Product Summary
The LF351N is a low cost high speed JFET input operational amplifier with an internally trimmed input offset voltage (BI-FET IITM technology). The device requires a low supply current and yet maintains a large gain bandwidth product and a fast slew rate. In addition, well matched high voltage JFET input devices provide very low input bias and offset currents. The LF351N is pin compatible with the standard LM741 and uses the same offset voltage adjustment circuitry. This feature of LF351N allows designers to immediately upgrade the overall performance of existing LM741 designs.
Parametrics
LF351N absolute maximum ratings: (1)Supply Voltage: 18V; (2)Power Dissipation: 670 mW; (3)Operating Temperature Range: 0℃ to +70℃; (4)Tj(MAX): 115℃; (5)Differential Input Voltage: ±30V; (6)Input Voltage Range: ±15V; (7)Output Short Circuit Duration: Continuous; (8)Storage Temperature Range: -65℃ to +150℃; (9)Lead Temp. (Soldering, 10 sec.): Metal Can: 300℃, DIP: 260℃.

Features
LF351N features: (1)Internally trimmed offset voltage: 10 mV; (2)Low input bias current: 50 pA; (3)Low input noise voltage: 25 nV/√Hz; (4)Low input noise current: 0.01 pA/√Hz; (5)Wide gain bandwidth: 4 MHz; (6)High slew rate: 13 V/μs; (7)Low supply current: 1.8 mA; (8)High input impedance: 1012Ω; (9)Low total harmonic distortion AV=10, RL=10k, VO=20 Vp-p, BW=20 Hz±20 kHz: <0.02% ; (10)Low 1/f noise corner: 50 Hz; (11)Fast settling time to 0.01%: 2 μs.

Diagrams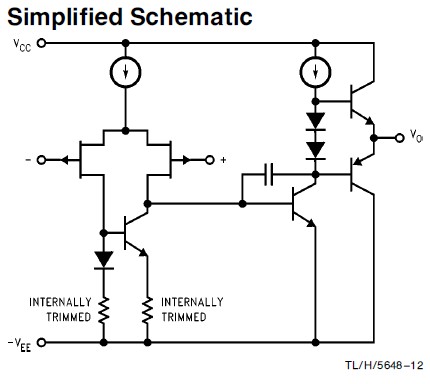 Image
Part No
Mfg
Description
Pricing
(USD)
Quantity

LF351N

STMicroelectronics

Operational Amplifiers - Op Amps Single Wideband JFET

Data Sheet



| | |
| --- | --- |
| 0-1: | $0.43 |
| 1-10: | $0.35 |
| 10-100: | $0.28 |
| 100-250: | $0.24 |

Image
Part No
Mfg
Description
Pricing
(USD)
Quantity

LF351

Other



Data Sheet

Negotiable

LF351D

STMicroelectronics

Operational Amplifiers - Op Amps Single Wideband JFET

Data Sheet



| | |
| --- | --- |
| 0-1: | $0.47 |
| 1-10: | $0.41 |
| 10-100: | $0.32 |
| 100-250: | $0.27 |


LF351DT

STMicroelectronics

Operational Amplifiers - Op Amps Single Wideband JFET

Data Sheet



| | |
| --- | --- |
| 0-1: | $0.45 |
| 1-10: | $0.35 |
| 10-100: | $0.30 |
| 100-250: | $0.26 |


LF351M

Fairchild Semiconductor

Operational Amplifiers - Op Amps 8-SOP OP AMP

Data Sheet

Negotiable

LF351MX

Fairchild Semiconductor

Operational Amplifiers - Op Amps Single Op amplifier JFET

Data Sheet

Negotiable

LF351N

STMicroelectronics

Operational Amplifiers - Op Amps Single Wideband JFET

Data Sheet



| | |
| --- | --- |
| 0-1: | $0.43 |
| 1-10: | $0.35 |
| 10-100: | $0.28 |
| 100-250: | $0.24 |